How to Open Microsoft documents in Google Docs
Posted by Jon Mark on 24 June 2014 01:42 PM
How to Open Microsoft documents with Google Docs
Microsoft Word documents can be viewed in Google Drive, but they cannot be edited. First you must convert the Microsoft Office documents into Google Docs format. These instructions will show you how to convert before or after you upload these files to Google Drive. The conversion can only happen with Google Drive, you cannot "save as..." a Google Doc in the way you can save Word Documents as PDFs.
If uploading files to Google Drive
When you upload a Microsoft Word document into your Google Drive you can automatically convert uploading Microsoft documents into Google Docs. This will allow you to edit documents as soon as they are uploaded because they will already be in the Google Docs format.
In top right corner find gear button
Select Upload settings
Check mark convert documents to Google Docs format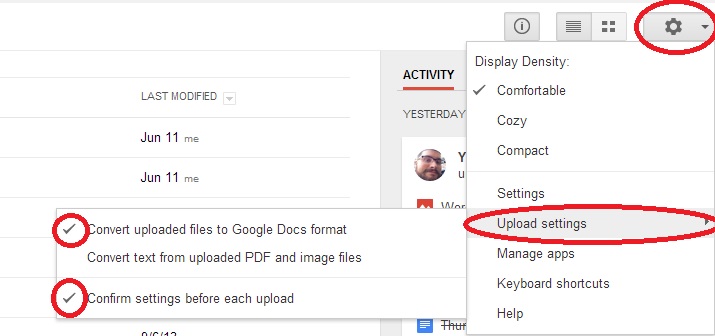 If file already in your Google Drive
However, if you already have a Microsoft document in Google drive you can convert it into a Google Doc by":
Check mark the document you wish to edit
Clicking the more button
Hover over Open with...
Select Google Docs
This will create a copy of the document you can now edit.

---