Posted by Jon Mark on 03 June 2014 10:04 AM
Calendar Settings
To access Calendar settings:
Open Google Chrome
Log into GC Google account
Press the customize button to access your google calendar
hover mouse over calendar you wish to edit
A upside-down triangle will appear, click on it
Select Calendar settings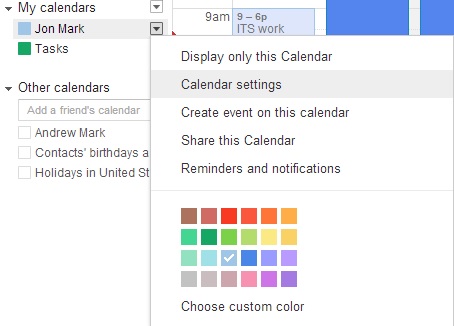 Calendar Details:
Calendar Name: Display name of calendar
Calendar Owner: The person who has complete permissions to calendar, there can only be one person. If you want to give a calendar to someone after you leave the college, write their email here.
Description: A simple description that only shows up if you share the calendar
Location: Unimportant, but you can put Goshen College here
Calendar Time Zone: If the red bar telling you current time or appointment reminders are incorrect it may be that the current time zone is incorrect.
Embed This Calendar: This will show the calendar as an image on a site, this can be useful for Google Sites
Calendar Address: Do not use this function
Private Address: This will allow access to anyone who clicks on the link.
Delete all events: This cannot be undone.
Share this calendar
Make this calendar public: Do not do this unless you want external users to be able to view your calendar
Share with specific people: enter email addresses so others can see your who calendar. Then use the dropdown settings to change if they can only see events or manage the calendar.
Reminders and notifications
Event reminders: Sets up reminders for Google+
Choose how you would like to be notified: Google+ notifications
Remember to press "Save" to save changes made.
---