Multiple reminders for one appointment
Posted by Jon Mark on 03 June 2014 08:33 AM
If you want several different reminders for your appointments follow these instructions:
Open Google Chrome
Log into GC Google account
Press the custimize button to access your google calender
left click on the event in your calender
You will see a field called reminders, click on the link "add reminder"
Add either/both pop-up or email reminders and set the time before the event that they will send to you.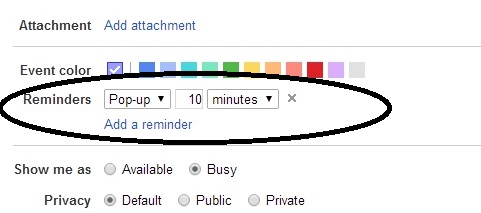 Please note that pop-up reminders only activate if you have an instance of Google Calenders running at the time of pop-up. For more information see this knowledgebase article.
---