New Google Drive Interface
Posted by Jon Mark on 25 July 2014 09:54 AM
New Google Drive Interface
There is a new interface for google drive that is more icon driven then the old minimalist text driven interface. This is the same look as you will see on mobile devices. This includes a few new features that may be interesting to check out.
Watch the video at the following link to learn more about the new Drive interface: https://www.youtube.com/watch?v=jWvKAYKlnnM
mouse commands
You may now click and drag to select more than one folder or file, shift-click, and ctrl-click the same as if you were in a computer.

Single left click: will select the document. On the right hand panel is a details and activity tab. The options you would have had with right click are available above in the menu bar.
Double click: will open the document
Right-click: will open a list of options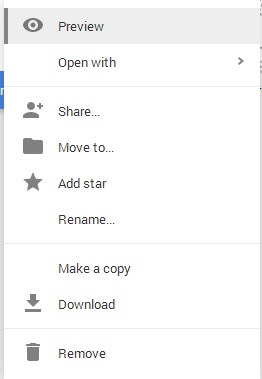 Details panel
toggle this panel with the in the top right hand corner
You can see the details of this file or folder in the tab.

Quota used is the amount of space this particular folder or file uses of your total quota'
Location refers to the most folder older immediate

At the bottom you may add a description. It will only be viewable in the details tab
To the right of details is an activity tab, which shows changes made by yourself and others.
Drive Layout
You may toggle between a list and grid view just like in mobile apps by clicking on list view/grid view icons at the top right hand of screen
Press to switch to list view
Press to switch to grid view
Press
---