Posted by Jon Mark on 24 July 2014 12:36 PM
Sidebar
The sidebar appears on the left side of the webpage and takes up a small amount of space. It can show the entire site, just the top level of pages, or selected pages. The other option is a horizontal navigation bar at the top of the pages.
Press settings cogwheel in top right hand corner
Select site layout under the site actions category
Select sidebar to toggle on
Click on the sidebar to edit
Add a title, check to display
You may uncheck automatically organize my navigation to custom add pages (like horizontal navigation)
Or decide how many levels of pages it shows.

1 will only show the top pages (no subpages)
2 will show pages and subpages
3 will show pages, subpages, and three deep pages
All will show all pages on the site.

Adding sitemap or recent activity is an option, but unless only the top level of pages are shown, there is little point in adding a sitemap.
In addition:
By pressing the pencil icon you can change the sidebar to the right side or change the width
By pressing the + icon you may add extra sidebar items such as text, recent activity, My recent activity, countdown to a specific date, site owners (at permissions level), or page authors. You may click and drag these different items above or below the navigation.
Example: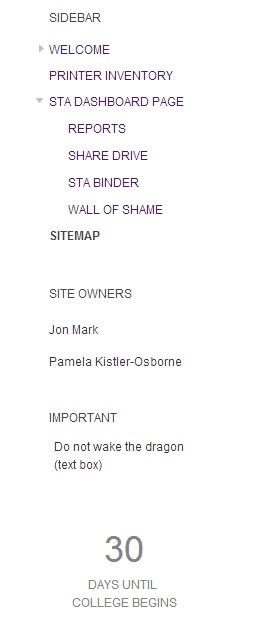 ---