Knowledgebase
Managing permissions per page
Posted by Jon Mark on 22 July 2014 02:35 PM
Managing permissions per page
By managing permissions per page you can decide which users can see which pages. This is important when making an inward looking (what members of your department can see) and an outward looking (what anyone at Goshen College can see) site. For example, this allows you to make announcements for your department and another set of public announcements for the wider Goshen College community.
Start by pressing the cogwheel in the top right hand corner, which is called the More actions menu

Please note you can only see this if you have edit privileges, if you cannot see this talk with the person who runs this Google Site and ask for privileges to edit.
Select manage site under the site actions category.
Select sharing and permissions
Select (located in the top right hand corner)
The permissions of your site are decided by selecting the top level. For example the helpdesk can be viewed by anyone at Goshen College and below you can add other people who have more permissions as specific people.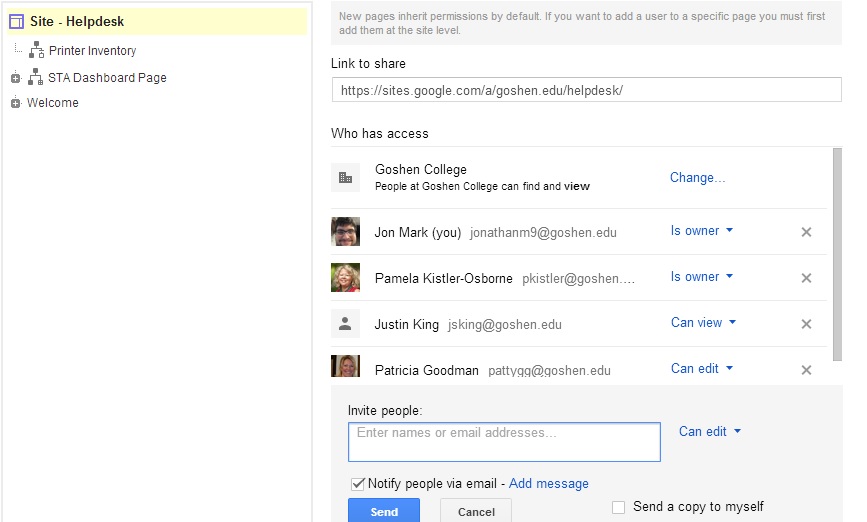 If you select other pages you can make permissions specific to that page.

Select another page
On the top above "who has access" is a change button. Click it
Then a dialog box will appear and give you three options
Same permissions as Site:
Custom Permissions Add new users: Means when you add users to the top level it adds them to this page as well. This can be useful when you want anyone who has specific access to the whole site to also have access to this page.

Custom Permissions Do not Add: Means when you add users to the top level it does not add them to this level. This is useful when you have a page that only staff have access to, but you want to add students to the site.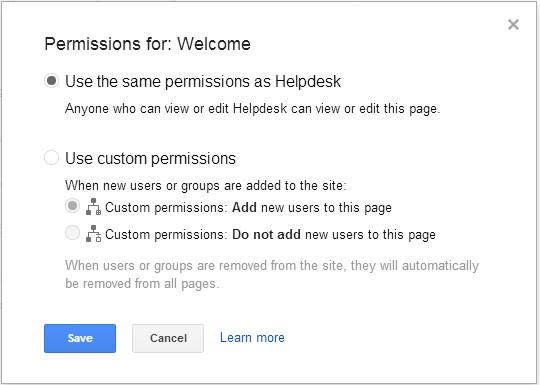 ---