Get Email Notifications with Google Forms
Posted by Jon Mark on 18 July 2014 04:18 PM
Get Email Notifications with Google Forms
When someone adds a submission to a Google Form you will be able to see this because the "name of google form (Responses)" spreadsheet will become bold, showing that a change was made. However, what if you have this file stuck in a folder you do not view often? You have two options on how to get notifications when people submit to your google forms. Here is how:
If you don't yet have a Form to work with create a New Form in Google Docs. (There are links at the bottom to create a Form and a Knowledgebase article with steps to create one
If the Form doesn't yet have a responces Sheet,
In your google form click on Responses(#)
then select Choose response destination.
A dialog box will appear, press Create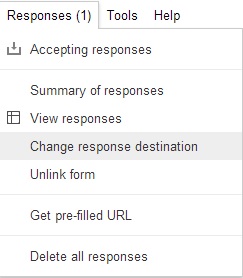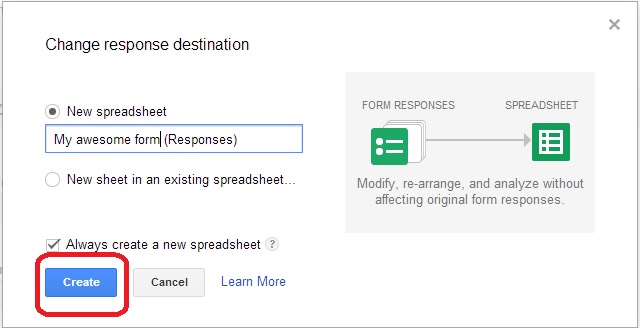 Now go back to Google Drive and open the spreadsheet corresponding to that particular form. (It is named the same as the form with the word (Responses) added on the end)

Choose Tools
Then Notification Rules
Select the option that says Notify me when A user submits a form.
You can also set how frequently you would like to be notified:

If you have created a "Contact Me" form, the email right away may be a good choice. This will send you an email with every responce.
For mass polls and surveys, you may use the daily digest feature. The daily digest will email you all responces that were submitted once every day any time between midnight and noon. You will get an additional "digest" email for every 25 responses.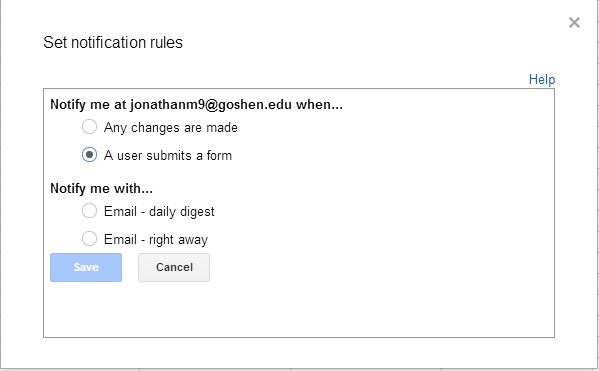 (Knowledgebase article concerning how)
---