How to share Google Forms
Posted by Jon Mark on 24 June 2014 08:46 AM
How to share Google Forms
Google Forms, like any document, can be shared to other users for the purpose of collaboration or for them to complete survey.
Share for Collaboration
Open Google Chrome
At MYGC select Google Drive
Select the form(s) you wish others to edit
Click on the share button
Type in the email addresses of collaborators
Select share
Share for completion of survey
Open Google Chrome
At MYGC select Google Drive
Open the Google form in question
Click on File and select Send form... or click on the blue Send form button in the top left of the page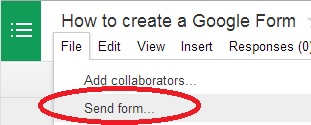 Now this windows will pop up. It is similar to the Google Docs Sharing windows.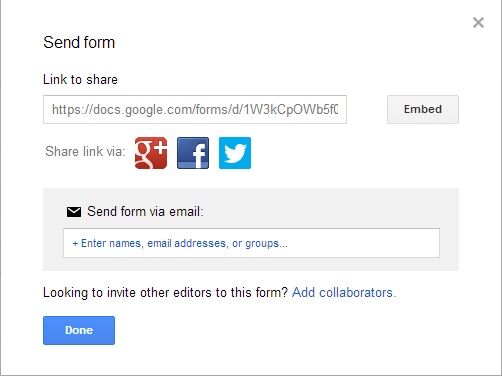 From this window you have two options.


The first is to copy the Link to share URL address and paste it in an email. When they click this link the Form you created will appear in their browser and they will be able to fill it out and submit their answers.
The second is to type in email addresses in the Send form via email: field. The Form is then sent as the email and the responders will be able to fill out the Form from the email and submit it from inside the email. When they click submit the Form will then open in the browser with their responces filled in so they can review it before submitting the form.

Neither of these options allow the people emailed to edit the Form, only fill it out. If you are looking to add an editor you will need to click the blue Add collaborators link.


*Updated June 11 2015 - AKM
---