How to access Google Tasks
Posted by Jon Mark on 20 June 2014 09:56 AM
How to access Google Tasks
There are three ways to access Google Tasks. A small window in Gmail, a panel in Calendar, and a full screen view in Google Canvas.
Gmail
Click on the mail drop-down menu on the top left and select tasks.

A small window will appear in the bottom right hand corner of your Gmail window. click on the gray area to open the tasks list

Calendar
On the left column of your calendar app, under My calendars is a calendar called Tasks left-click on it to toggle the Google Tasks Panel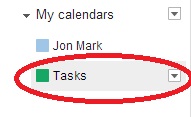 You will find the pannel on the right side of your calendar. To hide this pannel simply click on tasks again.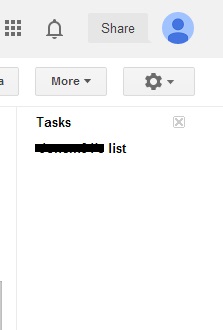 Google Canvas
To view your tasks full screen type in: mail.google.com/tasks/canvas. You will be able to view your tasks full screen. Please note that this view may have less functionality, as it is not as large of a priority of other tasks views and Google will not update it often.

---