Transferring file ownership
Posted by Jon Mark on 13 June 2014 01:38 PM
Transferring file ownership
If you are leaving Goshen College or are just wanting to give someone responsibility for a file so you can delete it off your Google Drive, then transfer the ownership to them.
Open Google Chrome
Sign into your Goshen Google Apps account
Press the customize button to access your google Drive
Select all files and folders you wish to (you must not select any files you are not the owner of)
Click on more
Select share
Type in other person's email address
Click send
Share window will reappear, to the left of the personal email address where it says, "can edit" click dropdown menu and select Owner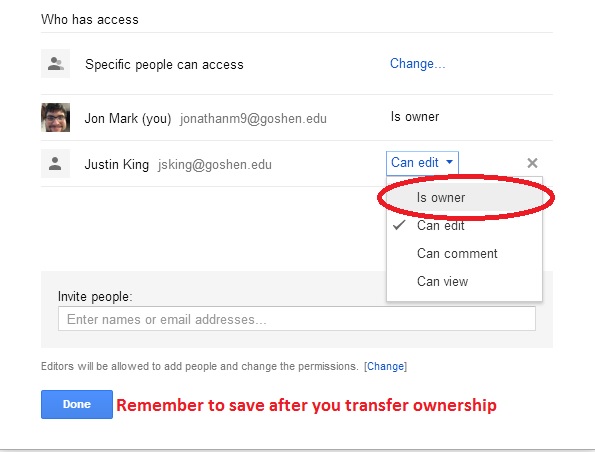 Unfortunately if you try to share from a @goshen.edu to a @gmail.com address you will get this error. Please contact the helpdesk @ 535-7700 if you wish to do this.

---