Managing multiple Google accounts
Posted by Jon Mark on 29 May 2014 10:25 AM
Logging into multiple Google Accounts
Many students, faculty, and staff have a personal Google account as well as their GC account and will need to find a convenient way to access both simultaneously. These are instructions showcase a few options that the user may want to try depending on personal preference. This is also important for if you are managing a department email and Goshen email simultaneously. Remember that you may be able to see both windows at the same time by holding the windows key and directional arrows left and right.
Separate users approach
One way to open both accounts at the same time is to use Chrome Sync to add seperate user accounts. This way you can have two windows of the same browser, save internet history in each, and not worry if opening new mail tab will launch in one account or the other. To do this follow these instructions.
Incognito window
If you want to sign into only two accounts at the same time in separate windows you can open an incognito window (ctrl-shift-N) and log into the other account. The incognito window acts like a fresh browser and does not save passwords or history.
Add account approach
If you have a personal Google account in addition to your GC Google Apps account, you can set your browser so that you can easily switch back and forth between logging into each account. While logged into a Google account, click on your profile picture in the top right corner, then select "add account."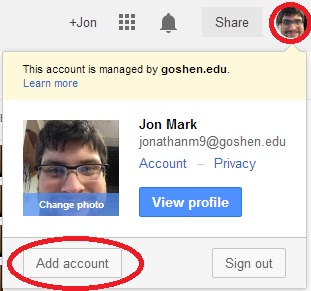 Alternatively, when you are at the Google login screen, you can click Add Account and enter in the email address and password of the account you wish to add. Then, the next time you go to the Google login page, you can then click to choose which account you wish to log in to, and enter in the appropriate password. (screenshot of said screen shown below)
Note: when you are signed into two different accounts on the same browser then the first one you signed into will be the account accessed with each subsequent new tab created.
Also note: if you clear your browser's cookies and cache, you will also be clearing the saved account information for choosing which Google account to log into, and you will have to re-set these up again.
---