Share a document or folder
Posted by Jon Mark on 26 July 2013 02:48 PM
Share a document or folder
Follow these instructions if you wish to save a document or folder.
Share a document
To get started, open the document you would like to share and click the Share button at the top right of the page to open this dialog: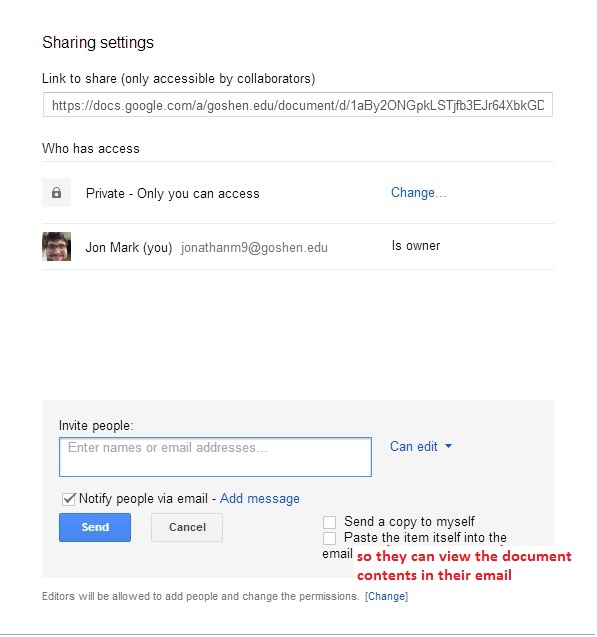 You then have the following options:
Invite people via email: This method allows you send this to specific people. Simply type their name in the "invite people" field

Leave "notify people via email" to send them a message. The document will show up in their "shared with me" category of their Google Drive either way
Add Message: You can add your own text to that, explaining why you shared the document or how you wish to colaberate with them by pressing
Send a copy to myself: will send a message to your own email.
Paste the item itself into the email: will put a link in the email so they can open the document from their gmail.

Copy and paste the Link to share to give access to anyone with that link. This can only be done if you change access rights to People at Goshen College with link or Anyone with the link
Set the visibility (Who can access) – One way to share your document is to choose who can find and view it. Click the Change link and then choose one of the following visibility settings:

Please note that if permissions are set to Goshen College or below that people will need to use their Goshen Google accounts to access and will not be able to acess with personal accounts.
---