Knowledgebase
Splashtop for Business- Getting Connected
Posted by Marcus Unruh on 17 January 2013 03:00 PM
With Splashtop for Business you gain control over the PC from your iPad. This is done by using the Splashtop for Business app on your iPad which connects to the streamer install on the computer. It take two steps to be able to control the classroom computer in this manner:
1) Start the streamer on the computer
2) Connect using the app on the iPad.
Starting the Streamer on the Computer
The Splashtop streamer is set to not launch on logon, therefore you need to launch the Streamer yourself.
1) Start the Splashtop Streamer by either double clicking the icon on the desktop or by going through the start menu.

2) Splashtop Streamer for Business will start and automatically log in. Take note of the computer name, this is the computer you will want to connect to on your iPad.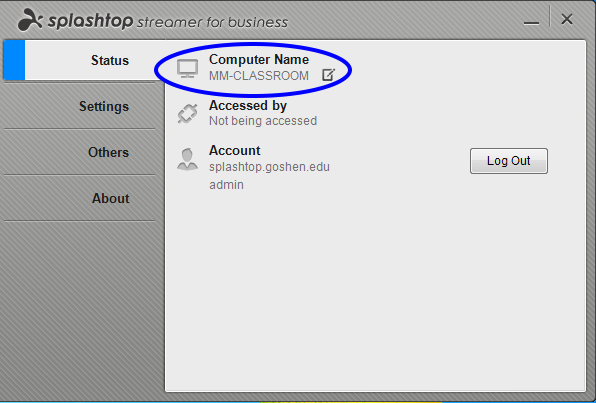 3) The streamer is running you may now close this window as Splashtop will run in the background, as you can tell by the logo in the system tray.
DO NOT log out of the streamer, as this will cause problems for the next person who uses Splashtop. Splashtop will shut itself down when you logoff the computer. If you find the streamer logged out contact the HelpDesk at ext. x7700.
Connecting with your iPad
1) Download the Splashtop for Business app either from the iTunes App Store or you can also find it in the GC App Catalog
2) Once you open the app you will need three things to sign in:
Splashtop Center: splashtop.goshen.edu
Email: username@goshen.edu
Password: your GC password
3) After logging in you should see a computer listed on the screen, make sure you tap the computer name that matches the streamer. If you don't see your computer double check that is Splashtop is running on the computer and then press the
button in the top right corner of your iPad.

4) You should now we connected.
See Using Splashtop for Business for hints on using Splashtop on you iPad
---